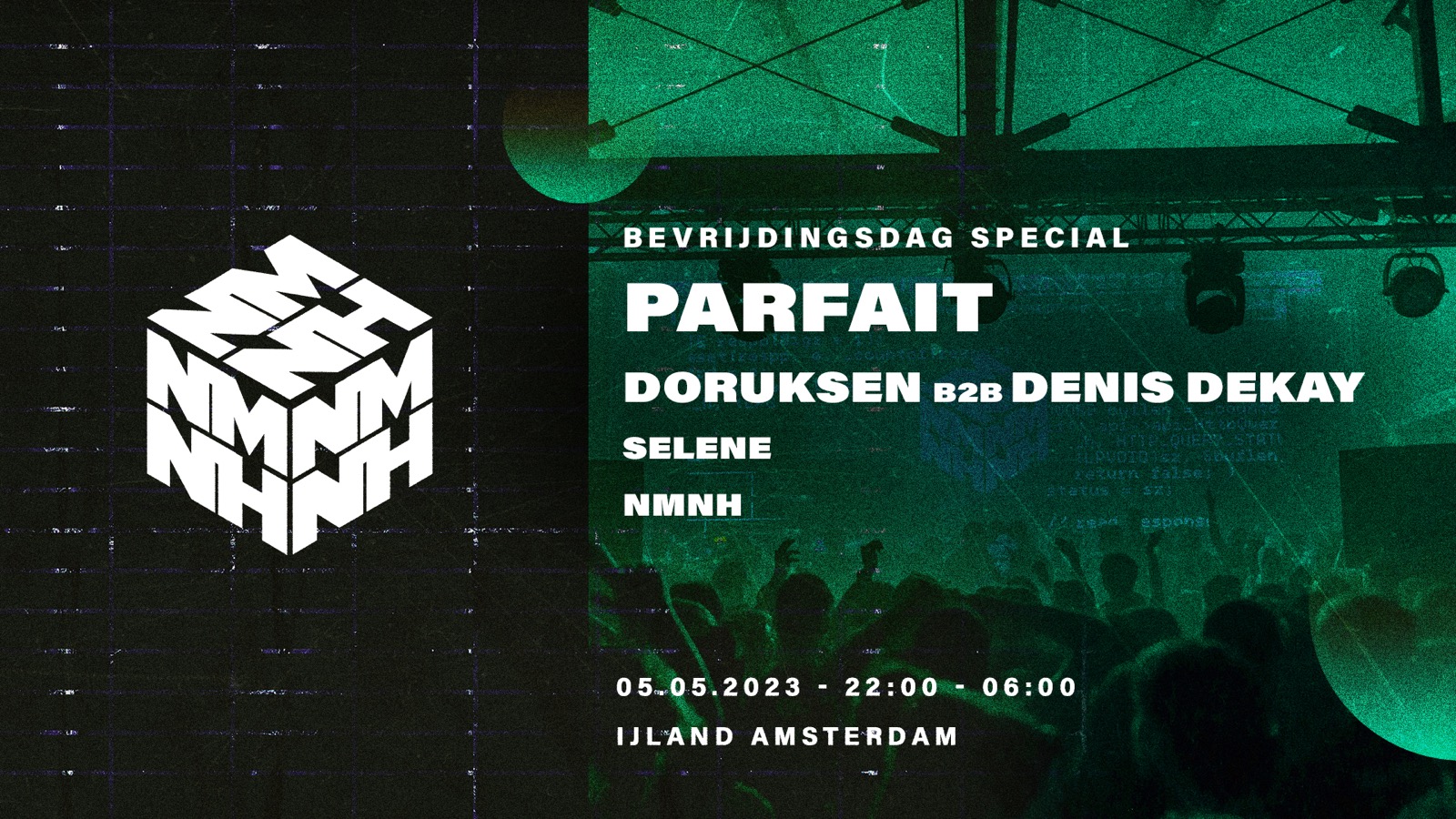 NMNH Bevrijdingsdag Special | W/ Parfait and Doruksen B2B Denis Dekay
𝗡𝗠𝗡𝗛 𝗟𝗜𝗕𝗘𝗥𝗔𝗧𝗜𝗢𝗡 𝗗𝗔𝗬 𝗦𝗣𝗘𝗖𝗜𝗔𝗟 𝗪/ 𝗣𝗔𝗥𝗙𝗔𝗜𝗧 & 𝗗𝗢𝗥𝗨𝗞𝗦𝗘𝗡 𝗕𝟮𝗕 𝗗𝗘𝗡𝗜𝗦 𝗗𝗘𝗞𝗔𝗬
To celebrate Liberation Day, we will come together on May 5th at IJland Amsterdam to let loose on the best techno tunes.
After several sold out editions we are super excited to be back at this location. We have arranged a very special line up for you, including an unforgettable light show of course!
Parfait will be making her debut at NMNH, Doruksen will be playing B2B with Denis Dekay. Selene will play her own records to complete the evening. And last but not least, our own NMNH sound system will once again deliver you the best NMNH tunes.
We can assure you one thing, you do not want to miss this one.
𝗪𝗛𝗔𝗧 𝗧𝗢 𝗘𝗫𝗣𝗘𝗖𝗧
An unforgettable edition where we can free ourselves with a special line up, a breathtaking light show and the nicest people.
𝗟𝗜𝗡𝗘–𝗨𝗣
Parfait
Doruksen B2B Denis Dekay
Selene
NMNH
𝗧𝗜𝗖𝗞𝗘𝗧𝗦
https://shop.yourticketprovider.nl/?productid=a2bc1e79-b8f6-784e-ccad-97df7714ad0awww.NMNH.eu
𝗪𝗛𝗔𝗧, 𝗪𝗛𝗘𝗡, 𝗪𝗛𝗘𝗥𝗘?
NMNH Techno Special W/ Parfait and Doruksen B2B Denis Dekay
Date: May 5th, 2023
Time: 22:00 to 06:00
Location: IJland, Amsterdam
Age: 18+, ID Required
𝗙𝗢𝗟𝗟𝗢𝗪 𝗨𝗦
Instagram: https://www.instagram.com/nooitmeernaarhuis/
Facebook: https://www.facebook.com/nmnhevents/
Soundcloud: https://soundcloud.com/user-519813338
TikTok: https://www.tiktok.com/@nooitmeernaarhuis
Want to sell your ticket(s)? Please do this safely on www.ticketswap.nl.